A framework guided by international pedagogy for stronger development of learners aged 5-11 years.
We believe that students learn best when they are curious about the world and actively seek to experience and interact with it. Which is why we have combined the renowned Montessori methodology  with a play-based learning philosophy in our International Early Year Curriculum (IEYC) which helps spur curiosity in a child and makes them a lifelong learner. We help guide your child to learn with enjoyment while providing a caring and nurturing environment.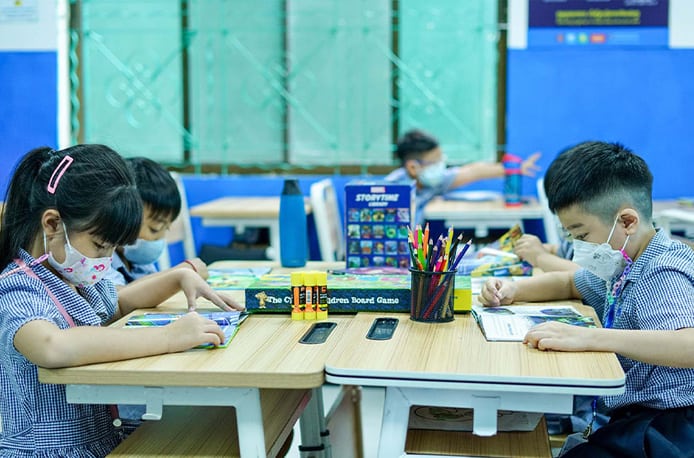 International Primary (Year 1 - Year 6)
Based on the Cambridge framework, our programme gives students the choice of subjects, and the freedom to develop their creativity, socio-emotional health and wellbeing.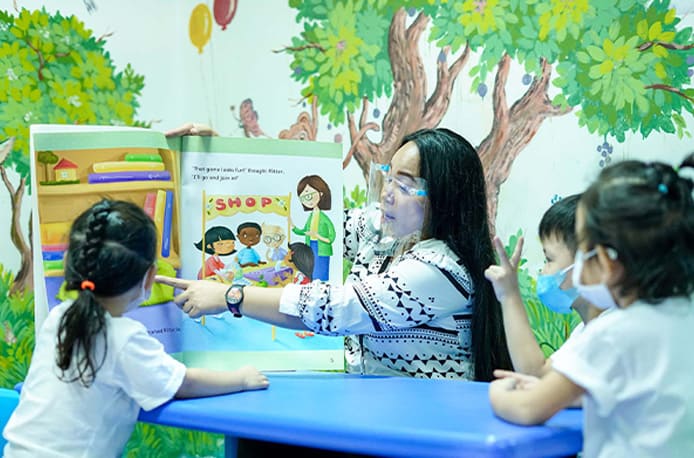 Khmer Primary (KG to Grade 5)
Students focus is on core subjects like Languages, Maths and Science, from KG to Grade 5, with special emphasis on their personal, social and physical development.
We provide the very best educational experience through our well-designed learning spaces and facilities. Beyond just our dynamic classrooms, our facilities help your child learn through interactive and communicative methodologies well-beyond classroom confinement.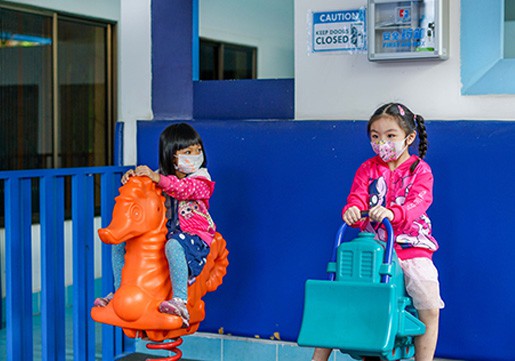 Playground
All classes are scheduled for outdoor play sessions in our onsite playground. Equipped with soft surfaces, the playgrounds provide safety as well as variety, to play a number of sports for the physical development of students.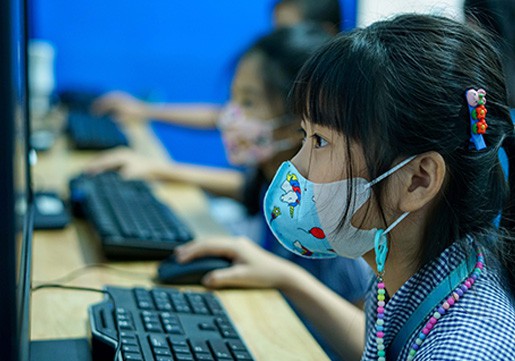 ICT Rooms
Information and Communications Technology is an important area of study in the digital economy. Our primary campuses are equipped with infrastructure that is appropriate for students to learn and practise the intricacies of new-age tools and languages.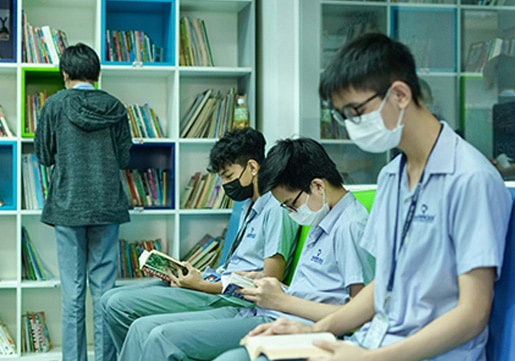 Library
Reading is encouraged in our schools through dedicated libraries which have age-appropriate books as well as recreational corners to ensure students use the time and space to increase their knowledge, improve their language and imagination skills.
Our teachers are qualified native speakers with extensive experience in international education. They are handpicked based on their qualification, their passion for the profession, their socio-emotional maturity. Mentors with these qualities interact well with their wards and create a communicative ambience in the classroom to make learning fun.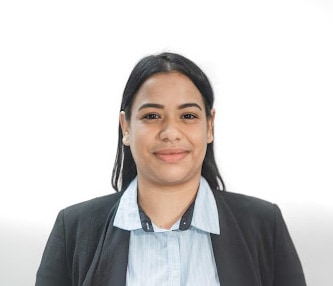 Harrods is committed to providing professional development opportunities for its teachers. The school offers regular training sessions, workshops, and conferences to help educators stay up-to-date with the latest teaching methodologies and techniques.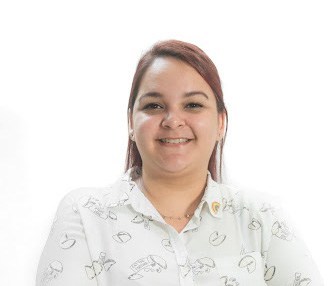 Working at Harrods has been nothing short of a wonderful experience. The atmosphere of the school is filled with diversity, culture, and positivity, which is very rewarding to be a part of. There's always an air of enthusiasm, creativity, and collaboration among the staff, and the leadership team is supportive and dedicated to ensuring that everyone achieves their full potential. The students are genuinely passionate about learning and keen to immerse themselves in a positive and inclusive school community.
What Parents Say About Harrods.
Hear directly from our parents about Harrods. Learn why Harrods is the best international school in Cambodia.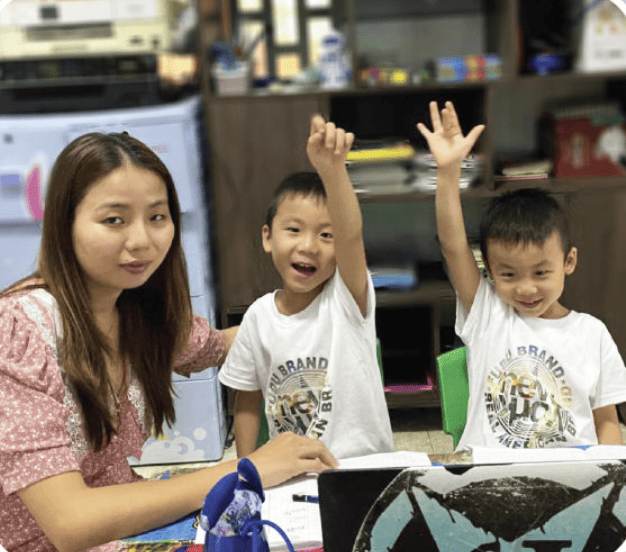 The school has done such a great job with launching this new way of school life for our children to learn at Harrods. This is Learning the Harrods Way!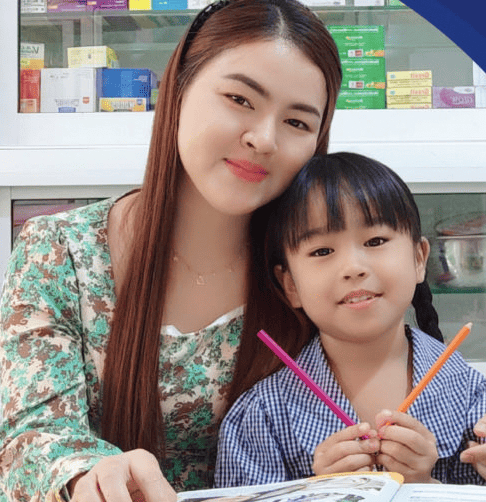 Online learning can be as good or sometimes even better than in-person classroom learning. The best online learning combines elements where students go at their own pac... More ›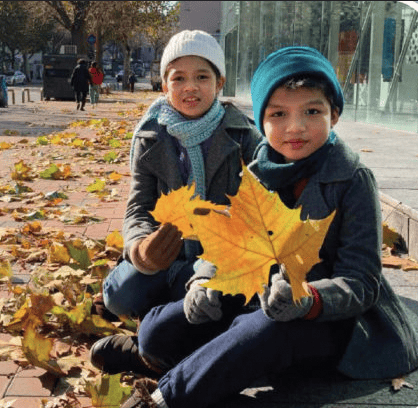 My child's enthusiasm and excitement are increasing - she is eager to learn and see her classmates and teachers everyday.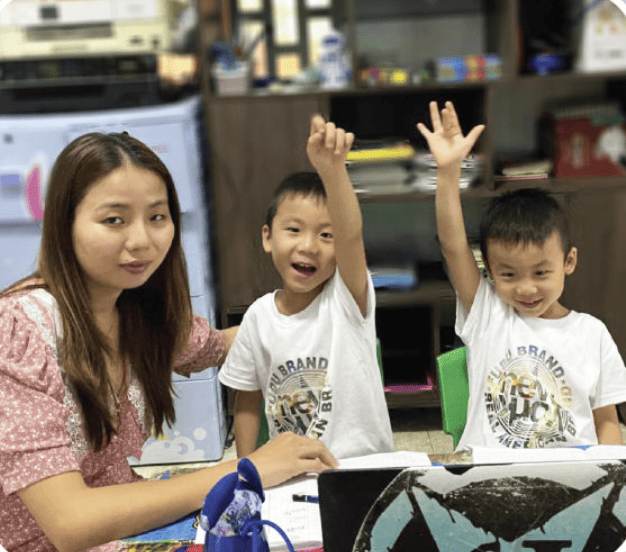 The school has done such a great job with launching this new way of school life for our children to learn at Harrods. This is Learning the Harrods Way!
Arts is considered a key skill under the IPC, and is encouraged as a source of learning that improves imagination and creativity among students.