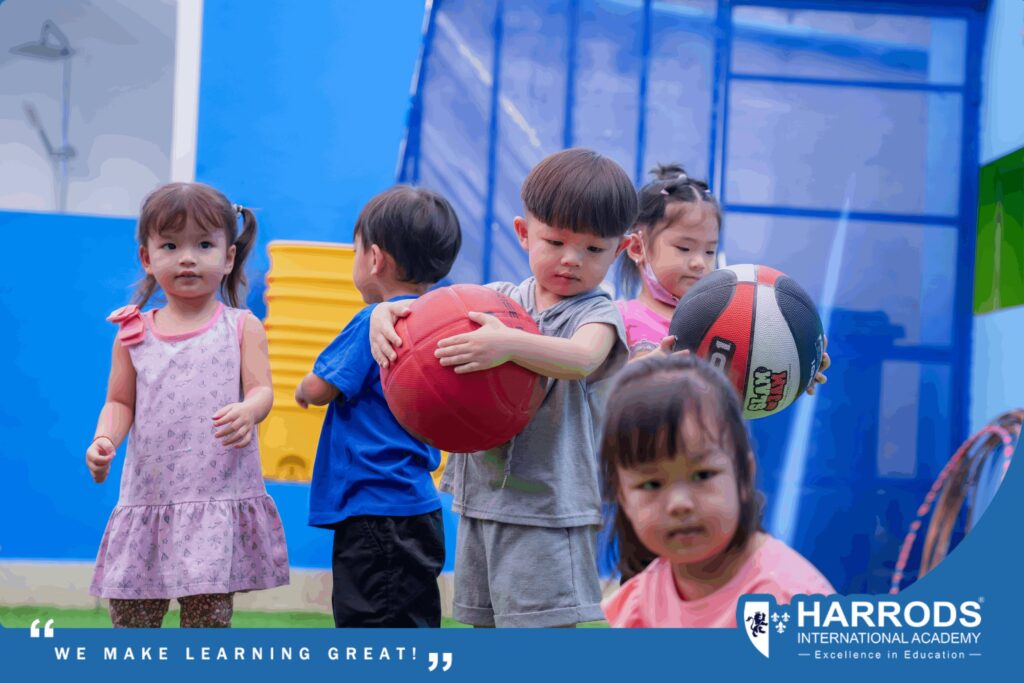 Campus designed for Students from Year 1 to Year 3.
Spanning from Year 1 to Year 3 or from ages of 5 to 8 years old in Lower Primary, a unique blend of the International Primary Curriculum (IPC) and learning principles of the Cambridge Primary Curriculum and the Cambodian National Curriculum are delivered through a student-centred approach that encourages exploration, collaboration, and creativity. Our Campus 6 is designed to suit the unique learning needs of children, and inspire students to engage with one another, participate in team-building activities and get the best learning experience.
Campus 6 features aesthetically-appealing and high-tech infrastructure that promotes a smoother learning journey and allows students to collaborate with one another over academic projects as well as sports and other extracurricular activities.
Modern Classrooms
Campus 6 classrooms are spacious, but we keep the class sizes smaller so that each child receives personalised guidance. Each classroom is vibrantly decorated with display works made by our students. This works wonders to brighten up the classroom atmosphere while fostering a sense of confidence in the students.
Swimming Pool
Our campus 6 features a well-maintained swimming pool that gives an opportunity to the students to learn and master swimming while improving their physical strength, flexibility, balance and coordination skills.
Play Area
Our innovatively-designed play area boasts a nurturing environment where students can relax, socialise and engage in recreational activities. This play-based learning approach promotes a sense of creativity, teamwork and productivity in our students.
Library
The Harrods Library is a treasure trove of knowledge and inspiration. The library features a vast collection of resources, ranging from classic literary works to the latest research materials, and encourages our students to join the path of independent learning.
ICT Lab
Our well-equipped ICT lab empowers students with the tools and knowledge to navigate the ever-evolving digital landscape. With cutting-edge resources and dedicated teachers, students are guaranteed to become proficient in Information Technology and thrive in a modernised learning environment.
Academic Office
Campus 6 features an academic office for teachers to conduct non-academic activities including workshops, training and knowledge sharing sessions, and experiences for the purposes of improving the quality of teaching and learning.
Harrods International Academy inspires academic excellence with its inquiry-driven curricula, qualified faculty and modern campuses that boast world-class facilities,
Kindness
We strongly embrace the value of kindness and care and inculcate the same in our students by nurturing them in a supportive environment where they feel valued and appreciated.
Future-Oriented Curricula
The curricula offered by the school prepares students for a future-proof career by igniting curiosity in them and helping them develop their critical thinking skills.
International-Mindedness
The school boasts a multicultural environment where teachers and students from diverse backgrounds come together as a team, working together and collaborating over creative projects.
Experienced Faculty
Our teachers have thorough expertise in their subjects and they have years of teaching experience in some of the world's most reputed international schools.
Beautiful Campus
Our campuses are beautifully designed keeping in mind the learning needs of our students. We have used advanced technologies throughout our campus, which support a superior learning and engagement experience.
We, at Harrods International Academy, adopt a student-centric approach, which enables our students to enjoy a rewarding learning journey that's tailored to their needs. Our teachers apply innovative teaching methodologies from time to time, so they remain better equipped to adapt to the evolving practices of 21st century education.
International Primary Curriculum (IPC)
IPC promotes well-rounded development of students, makes them competent for a global career and capable of making a difference in others' lives.
Cambridge Primary Curriculum
With this curriculum, we provide a balanced education to students while allowing them to choose from an assortment of ten subjects.
Cambodian National Curriculum
 The purpose of the curriculum is to ensure that all students have a strong foundation for future education by helping them boost their creativity and critical thinking skills.