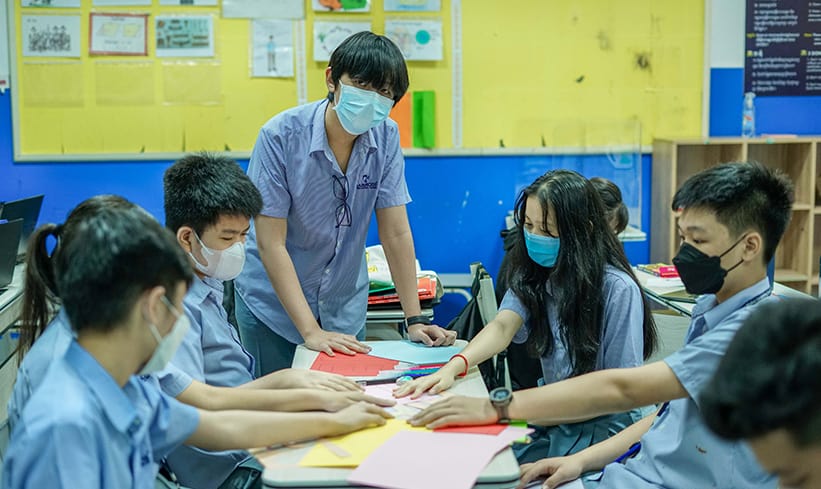 Designed for Students from Years 9 to 13
Creating gateways to academic excellence – our Upper Secondary Campus 5 caters to students from Years 9 to 13. Multiple alternatives of the Harrods Tertiary Pathway are created for our students to fit with their skills, abilities, attributes, and knowledge. Our Secondary curriculum pathway options include the Cambridge IGCSEs, Cambridge A-Levels, and the Harrods Secondary Certificate (HSC). These options support our students to enter universities both locally and internationally.
Campus 5 boasts facilities that make learning not only smoother, but enjoyable as well. From interactive learning spaces to intricately-designed libraries to professionally-maintained outdoor sports areas, the campus 5 is noted for its thoughtfully-designed spaces that students love to explore.
Classrooms
The classrooms in Campus 5 are spacious and are equipped with modern teaching tools, such as interactive smartboards, allowing for flexible, creative and varied classroom activities. Our classrooms not only support 21st century educational approaches and experiences, but they also offer a nurturing environment that fosters curiosity and discovery.
ICT Lab
The Campus 5 ICT lab is equipped with sophisticated tools and fully- operational computers that enable our students to learn various technical skills such as digital software and its functions, computer coding, graphic design, etc. This makes our students more competent to thrive in the 21st century learning environment.
SY Sports Court
With a spacious and neatly-maintained play-area that hosts engaging team-sports and activities, our students learn the skills necessary for study, work and relationships while being able to unwind, relax and enjoy fun time with their peers.
Science Lab
The campus boasts a fully-functional, Cambridge approved and safety-guaranteed science lab that allows students to conduct scientific experiments, research hypotheses and take an active part in scientific investigations and inquiry.
Library
Our well-stocked library allows students to have access to a vast collection of reading resources, from classic literature to some of the amazing fictional works that strengthen our students' critical thinking skills, spark their imagination and foster a love for lifelong learning.
Harrods International Academy delivers world-class education to students while ensuring that they get the best mix of academics and extracurricular activities.
Nurturing Environment
The school provides a nurturing environment to students, helping them identify their true potential and put sincere efforts to explore a path of self-discovery.
Well-Rounded Development
The school embraces the concept of whole-child development and has appropriate programmes in place to support its character development initiatives.
Preparation for A Global Career
With globally-recognised curricula and programmes, our students become competent for enrolment in reputed universities and can build a successful global career.
Highly-Qualified Faculty
All our teachers have solid experience in their domain of expertise and they apply personalised methodologies that can bring out the best in every student.
Inquiry-Driven Curricula
Our globally-recognised curricula sparks curiosities in students, encouraging them to explore new things and come up with ideas that can address real-world challenges.
High-Tech Infrastructure
Our campus encompasses modern amenities that not only support a smooth learning experience, but also inspires our students to feel deeply connected to the campus.
With academic excellence being the driving force behind every initiative that we undertake, we always aim to set a strong foundation for future development and achievements. Our programmes help our students get successfully enrolled in local as well as global universities. 
Our Secondary curriculum pathway options include the:
One of the world's most prestigious international qualifications, Cambridge IGCSE gives students more options to choose from and learn more subjects.
This pre-university programme gives students the opportunity to get enrolled in some of the most renowned universities across the globe.
Harrods Secondary Certificate (HSC)
We offer the HSC programme as one of our tertiary pathway programmes that allow students to prepare for higher education.